AHA TRAINING CENTER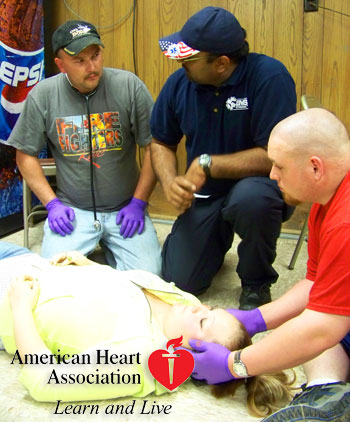 AMERICAN HEART ASSOCIATION (AHA)
TRAINING CENTER
The American Heart Association's mission is to reduce disability and death from cardiovascular disease and stroke by 25% by the year 2010. There are approximately 3500 Community Training Centers in the country.
Western Alliance Medical Services is proud to be your local American Heart Association (AHA) Community Training Center(CTC). The Community Training Center is a key component of the AHA training network. The CTC provides support to training courses held in the area. CTCs play an important role in helping the AHA achieve its mission efficiently and effectively. The training network established by the CTC strengthens the "chain of survival" in every community
Designed for anyone who wants to learn basic resuscitation skills. Provides information on how to perform CPR on adults, children and infants and how to help a chocking adult child or infant. This program is designed for the general public, boys/girls clubs, parents, grandparents, babysitters, mass CPR training participants.
Heartsaver CPR in Schools
The American Heart Association's Heart saver CPR in Schools Course is designed to teach middle and high school students the lifesaving skills of CPR, how to relieve choking, and how to use an AED (automated external defibrillator). The course is designed to appeal to students through illustrations of teens and a unique training video featuring interviews with teens and edgy video footage. Students receive an Adult CPR and AED reminder card
A modular program designed to teach CPR and relief of Foreign Body Airway Obstruction for adults, children and infants. Includes response to cardiac emergencies and instruction on barrier devices. This program is designed for lay rescuers whose jobs require a credential, documenting successful completion of a written evaluation and successful skills performance (i.e.: security guards, childcare professionals, preschool workers).
A comprehensive program that teaches the basic techniques of adult CPR and the use of an automated external defibrillator (AED). This program is designed for lay responders including, firefighters, police, commercial airliner crews, security personnel, employees in the workplace, and family members of patients at high risk for sudden cardiac death.
The Heart saver First Aid Course teaches rescuers to effectively recognize and manage adult emergencies in the critical first minutes until emergency medical services personnel arrive. The course also provides a complete health and safety training solution for first aid, adult and pediatric CPR with AED. It's designed for people assigned to emergencies in the workplace or community as well as those who want to learn first aid, CPR and AED skills. Some rescuers are required to take this course as part of their employer's efforts to comply with OSHA regulations, i.e. corporate employees, security guards, airline personnel, lifeguards, and other individuals who want or need first aid training.
The BLS Healthcare Provider Course is designed to provide a wide variety of healthcare professionals the ability to recognize several life-threatening emergencies, provide CPR, use an AED, and relieve choking in a safe, timely and effective manner. The course is intended for certified or non certified, licensed or non licensed healthcare professionals Healthcare providers such as physicians, nurses, paramedics, emergency medical technicians, respiratory therapists, physical and occupational therapists, physician's assistants, residents or fellows, or medical or nursing students in training, aides, medical or nursing assistants, police officers, and other allied health personnel
Other AHA Classes offered by WAES
Other classes offered by WAES
- ACLS & ACLS SKILLS TEST
- BLS & BLS SKILLS TEST
- FAMILY & FRIENDS CPR & First Aid
- HEARTSAVER CPR,AED,FirstAid,
- PEDIATRIC First Aid
- PALS
- International Trauma Life Support (ITLS)
- Animal CPR
- Emergency Medical Technician(EMT)
- SMART Triage Etc
and others as needed per Request
Please call OR e mail for dates and availability
570-297-1756 / communitytraining@westernems.com