CLASS ROOM AVAILABILITY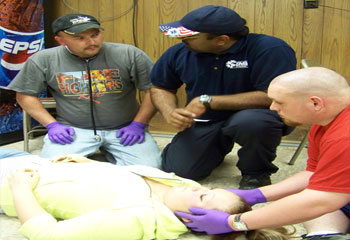 For your next business meeting or event in Troy, PA, consider the Western Alliance Emergency Services "State of the Art" classroom.
It is equipped with the very best in audiovisual equipment and includes a 52" widescreen television, combo DVD and VCR player, surround sound system, ceiling mounted Power Point projector, and seating accommodations for up to 45 attendees. Our classroom room can be configured in a number of ways. Chairs may be set-up along the perimeter of the room to provide additional seating. Tables may be set-up along the perimeter of the room to provide space for food, drinks, meeting materials, etc. Extra tables can be set-up immediately outside the meeting room, if necessary, to accommodate registration and/or meeting materials. Our classroom is available for the community based on availability by submitting a request into our office for review. Western Alliance Emergency Services maintains the right to approve or disapprove the usage of the room based on community and citizen benefit. In addition, Western Alliance has a room available at our Wysox location. This room is appropriate for meetings, fundraisers, or other small to medium sized special events.
Western Alliance will not provide arrangements for catering services. Outside catering may be brought into the meeting space. The client is responsible for all ordering, set-up and removal of catered items and for the final clean up of the class room.
The next time you or your organization is having a meeting, a conference or a continuing education class, consider having Western Alliance as your host. Please call 570-297-1758 or email publicrelations@westernems.com