SUBSCRIPTION PROGRAM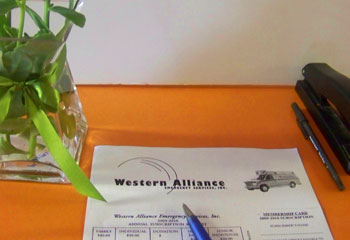 Who is covered?
We have a variety of coverage plans here at Western Alliance Emergency Services .For those individuals over 62 years we have individual senior citizen plans covering any single senior citizen. Our senior citizen family plan covers any senior citizen husband and wife. We also have a family plan that covers individuals 62 and under which covers any husband and /or wife along with tax dependant children. For those individuals 62 and under who are single we have our single subscription plan.
What does the subscription plan cover?
Our subscription plan entitles you to unlimited one-way emergency transportation. Our subscription plan does not cover any non-emergency transportation including wheelchair and stretcher van transportation.
Will my Insurance be billed?
Yes, we still reserve the right, and must legally third party bill, but as a subscriber you will not be directly billed for any emergency transportation fees.
If you bill my insurance then what is the benefit of becoming a subscriber.
Transport to the hospital via ambulance in an emergency can cost over $1,200.00. Insurance may not cover all of that cost therefore leaving you with an out of pocket expense that you will personally be responsible for. As a subscriber with Western Alliance regardless of whether your insurance pays or not, you will not have to pay any ambulance charges out of pocket.
How do you get my insurance information?
One of the ambulance personnel on the scene will attempt to gather insurance information from the patient, family members or hospital registration if possible. If current insurance information isn't available, our billing personnel will contact the patient at a later time for the information
What is the coverage area for this subscription plan?
Our subscription plan covers any emergency where transportation is provided by Western Alliance regardless of what borough or municipality the emergency originates in
Can I subscribe even if I don't reside in the area that Western Alliance provides emergency transportation?
Yes. Every one is eligible to participate in our subscription plan. This works for subscribers who are visiting family or passing through the coverage area .This also works for those subscribers with summers homes or cabins in Western Alliance coverage area or people who are employed in our coverage area.
I reside in Western Alliance coverage area and pay taxes, why am I not already covered for ambulance services?
Unlike fire services, Western Alliance does not receive tax dollars for ambulance protection in any borough or municipality. Ambulance service is provided by third party billing, subscription plan, donations and occasional grants.
Am I really supporting Western alliance?
Yes, 100% of your donation goes towards helping Western Alliance protect you and your loved ones. Funds assist with operational cost such as staffing and equipment.
Can I make donation with my subscription purchase?
Yes, any amount received over the subscription amount will be considered a donation.
Is my subscription tax deductible?
No only the amount donated above the cost of the subscription plan is considered Tax deductible. Western Alliance strongly urges you to speak with your tax advisor with questions related to your Tax liability.
When does the subscription plan begin and end?
Your subscription plan will begin the day you purchase it, expiring on December 31st of the same year. Our subscription at Western Alliance runs from January 1st to December 31st of each year.
What information do I need to give Western Alliance.
We will need your
- Full Legal Name of enrolling members. (First Middle, Last)
- Date of Birth of each enrolling member.
- Mailing and Physical address
Why do you need the name and date of birth of everyone in my house?
Unfortunately, anyone at anytime may require an ambulance while at your home. In order to ensure you don't receive an ambulance bill, we need to obtain everyone's information at the time of enrollment, so we can match the patient information to the subscriber information.
How can I become a subscriber?
You can subscribe by completing our subscription form during our annual drive and submitting it back to Western Alliance, or by paying online. In the event you need to speak to someone pertaining to subscription services, please call 570-297-1758
What is the cost of the subscription plan?

Your paid subscription is good from January 1st through December 31st
| | | |
| --- | --- | --- |
| | Standard Coverage | Premium Coverage |
| Senior Individual (over age 62) | $30.00 | $75.00 |
| Senior Family (both over age 62) | $45.00 | $112.50 |
| Individual (under the age of 62) | $40.00 | $100.00 |
| Couple (under the age of 62) | $55.00 | $137.50 |
| Family (under the age of 62) | $75.00 | $187.50 |
Does Western Alliance have any special subscription plans?
Yes, Western Alliance offers three additional subscription plans
BRONZE
SUBSCRIPTION PLAN
Cost $1,000
SILVER
SUBSCRIPTION PLAN
Cost $1,250
GOLD
SUBSCRIPTION PLAN
Cost $1,500

Life time subscription

Wall plaque for your home

Recognition as Bronze member

Life time subscription

Wall plaque for your home

Recognition as Silver member

Life time subscription

Wall plaque for your home

Recognition as Gold member